The information on this page covers the 2017-'18 apps for the Class of 2020 (last season). It will be updated as information becomes available from the schools for the 2018 applications. When you buy the Recommender's Instructions Sets, we will develop them based on the currently available app from your school. It's up to you to verify if your school has released its app before you order.
g
Recommenders Instructions Sets:
Help your recommenders help you!
Recommenders do not have an easy task

When you make the decision to apply to business school, you soon recognize the amount of work involved. Are you aware of how much work your applications will require from your recommenders?


When you're applying to many schools, the 'favor' you've asked of your recommenders soon balloons out to mammoth proportions. It can become a very big project.
Writing your recommendations for your MBA apps is a highly inefficient process. Your recommenders will need to jump through a bunch of hoops in order to submit their reference letters for you:

Some schools let them upload a file; other schools don't.
Some schools allow for three pages or more in a written recommendation; other schools only permit two, or have specific word counts.
Some schools ask identical questions, yet your recommenders won't know that until they dig into each school's online system to discover it.
Even worse: Some schools ask almost identical questions!! Which variation is important? Where can a recommender re-use an answer?

Even if you're applying to one school, the phrasing of the questions that recommenders must answer is not always clear.


Background
Starting in 2014, many business schools standardized on a set of two questions that they ask recommenders to write about … or they tried to. When this trend started, we wrote about the problems that we saw with it. Things got much worse in 2015. In 2016, the GMAC came out with a set of "standardized" recommendations which is a set of 4 questions, but again, the implementation was not consistent with every school. For the 2017 season, there is even greater divergence from that. Wharton is going in a totally new direction, and NYU has introduced a third special-purpose requirement called the EQ Endorsement.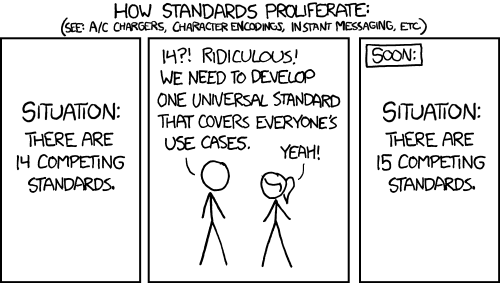 MBA letters of recommendation are a mess
and they're not going to get any better.
So what is your school doing this year?
Here's our survey of 2017 MBA apps from the Class of 2020
No information is yet available for app requirements for the Class of 2021.
1 Standardized MBA Recommender Questions Version 1
The four questions:
Please provide a brief description of your interaction with the applicant and, if applicable, the applicant's role in your organization.
How does the applicant's performance compare to that of other well-qualified individuals in similar roles? Please provide specific examples. (E.g. what are the applicant's principal strengths?)
Describe the most important piece of constructive feedback you have given the applicant. Please detail the circumstances and the applicant's response.
(Optional) Is there anything else we should know?
Here is a PDF with all the requirements which the "Standardized Version #1" Group A schools claim they've adopted.

GROUP A: Standardized MBA Recommender Questions Version 1
2017 Schools (TBD for 2018)
If you're applying to ONLY those schools, then your recommenders' job is simplified – but they would still benefit from the Recommenders' Instructions Sets to help them write good ones!


A variation of that first set of standard questions is also being used:
2 Standardized MBA Recommender Questions Version 2
Here are the two questions:
How does the applicant's performance, potential, background, or personal qualities compare to those of other well-qualified individuals in similar roles? Please provide specific examples.
Please describe the most important piece of constructive feedback you have given the applicant. Please detail the circumstances and the applicant's response.
As you can see, they're similar… but not identical. Sheesh.
GROUP B: Standardized MBA Recommender Questions Version 2
2017 Schools (TBD for 2018)
These schools used the same set of two questions last year.

It's confusing! Supply your recommenders with some guidance!

Next we have schools that have pretended to standardize.
Semi-Standardized Requirements
GROUP C: Schools with Sort-of-Standardized Recommender Questions
These schools asked a set of questions that were AT LEAST SIMILAR to one or the other set of standard questions, but they complicated things by asking other stuff that's different. The details varied by school. No idea what these schools will do in 2018. You may want to wait to order until your school's app is released.
GROUP C: Semi-Standardized MBA Recommendations
2017 Schools (TBD for 2018)
Stanford GSB – these are essentially the same questions as Group A, but the instructions are different for how your recommenders will submit their answers, so we're keeping them in Group C.
Berkeley-Haas – they also have a one-off question that's unique to them
Yale SOM – these are really close to Group A's questions but they're not identical
Totally Different and Not Standardized Recommender Questions
GROUP D: Schools that are doing their own thing with recommendations
2017 Schools (TBD for 2018)

This leads us to…
EssaySnark's Recommenders' Instructions Sets
The purpose of this EssaySnark product is to help you help your recommenders.
Please read the purchase instructions carefully. Delays in delivery of your Recommenders Instructions Sets are avoidable if you follow the directions! 🙂
The EssaySnark Recommender's Instruction Sets will simplify the effort for your recommenders. This is a special one-of-a-kind product that lays out a straightforward view of what's required, for the specific schools you're targeting. It makes life easier on your recommenders.
Pricing starts at $70 for two schools


If you're applying to three or more schools, you really need this. It will seriously simplify things for your recommenders. You want the process of submitting strong letters of reference to be as friction-free as possible. EssaySnark's Recommender Instruction Sets smooths this project as much as it can be – without crossing any ethical lines.
You already know our stance on writing your own letters of recommendation (don't do it). The Recommender Instruction Sets are for you to give to your recommenders – we do NOT condone applicants writing recommendations themselves. That would be a very bad call on your behalf; the schools will reject you if they discover you have done that. EssaySnark reserves the right to cancel any client engagements with no refund if we discover unethical behavior such as this (this policy is covered in the Terms of Services you agree to when using this service).
The Recommender Instruction Sets include expert advice to your recommenders – written by EssaySnark – explaining how to handle the exact questions in a way that will give the schools useful input into your background and experiences (don't worry, it's not snarky). The Recommender Instruction Sets are a tool to help you get better recommendations, by helping the recommenders know what to focus on and how to present info on your performance.
This is not a substitute for our Letters of Recommendation App Accelerator, which is a tool for you, the applicant, to design your recommenders' strategy and identify the best people to write your recommendations, based on the realities of your circumstances and specifics of your profile. If you are having trouble deciding who you should ask to recommend you for specific schools, that App Accelerator is the way to go.
The Recommender Instruction Sets is a win-win-win: Your recommender's job is easier, you get better recommendations, and the schools get more useful information to consider as part of your application.
Here's what one former Brave Supplicant reported after getting admitted to his top choice schools:
12/20/15: THANKS SNARK! Your guides were invaluable and immensely helpful! The recommender guides were PERFECT, and your essay guides seriously saved me hours or days of headache and worrying – they both validated my approaches and made me reconsider my content and styles. I would not have had anything near a clear or concise statement without your products! I love your blog too. I'm staying subscribed just because I like reading what you have to say regardless of the fact that I'm done and chillin now 😀
How it works
Buy the Recommender Instruction Sets for two schools minimum, up to five schools total. Note: You must order all schools together; you cannot break up your order into multiple purchases.
When you sign up, you will specify which schools you want the Instruction Sets to cover. Currently supported are the 16 U.S. schools listed here though some schools not on the list also have standardized questions (e.g., IESE in Spain is one and there's others as well). If you are applying to multiple schools tagged with the icon, then to save money, you can buy the Instruction Sets for one of them — but then it will only be tailored to the one that you buy for.
Within 2 business days of payment, you will receive your customized Recommender's Instruction Set as a PDF of guidelines and best practices for your recommenders.
You will provide your recommenders with the Recommender's Instruction Set when you are ready for them to start writing recommendations. You may also want provide them with your own prep packet that you have developed, with your resume or other background information on your work experience, projects, and performance that you feel may be useful to them in writing about you. We caution you against providing too much content though. Your recommenders must write the recommendations themselves – not copy in what you provided.
What you get
The Recommender's Instruction Sets is more than just a list of the questions; it is a detailed step-by-step personalized guide, organized and optimized for efficiency, to walk your recommenders through the process of meeting each school's requirements in the best way possible. It gives busy recommenders the details they need to do a good job on your recommendation letters – with tips on what to include for each question your schools ask, and an emphasis on providing the examples and details that the adcoms need to see.
A recent BSer review gave us only 3 stars because the instructions sets were so lengthy. This person got the 5-school instructions sets — and ALL schools are different — so yeah, the instructions sets are long!! This recommendations thing is a significant undertaking and there are lots of ways that the schools differ in what they are asking.
What it costs
1 or 2 schools: $70 (minimum order)
3 schools: $110
4 schools: $180
5 schools: $270 (priced higher because these are SIGNIFICANTLY more work)
Adding schools to the set is a non-linear increase in the amount of effort required by the 'Snark to produce it for you, so that's why pricing goes up so much for the larger quantities. You must order all schools together in one purchase. We will not honor multiple orders of this product per person.
Your Instruction Sets will be tailored to the specific schools you name. You will get one document that tells your recommenders which order to do the schools in to streamline their process, and then explains how to reuse what they write for the first school on their second school, etc. Please note that there are NO REFUNDS; once you purchase, we start working on the analysis required to produce your custom order.
Again, the Recommender Instruction Sets are not for you to use in writing your own recommendations. That is a very bad idea. Don't do it. This is a support tool for your recommenders, to make their task easier. Don't be an unethical shmuck with your apps.


---
Order your Recommender's Instruction Sets now and make sure your recommenders do a good job for you!
---
---
Hear what others say
Thank you for the very insightful feedback and comments, it is well received.

– 2016 Rd 1 BSer who bought a 3-school set
Did you get the Recommender's Instruction Sets? What do you think – will they help your recommenders? What did your recommenders say about them? Please offer some comments on whether it was useful or not.
Click here to submit your review.
---
---
MBA Recommendations & Recommender Instruction Sets
SKU
UPC
Model
Detailed... but really long!
Sep 02, 2017
by
Anonymous
I received a 5-school recommendation set and it was 18-pages!! The guide was thorough and provided the recommender with a detailed plan. My favorite part was their guide on which school to tackle first.

Of all the many great things I bought from Snarks, I'd rate this 3.5-stars. While comprehensive, the set felt overwhelming. I ended up re-purposing the material and condensing it to 1-page.

If your recommender has never written MBA letters before, you might find this product more helpful!

---
Excellent resource to help your recommenders!
Mar 01, 2017
by
Anonymous
Very detailed, step-by-step instructions that are going to make your recommender's life easier. Get this guide early on and send it to your recommenders and you won't have to worry about a thing as the deadline approaches. It worked well for me; one of my recommenders followed the instructions carefully and he produced a high quality letter. The other recommender pretty much relied on me to read it and provide feedback but still helpful. For this price, you won't regret it.

---
Must Buy!
Aug 08, 2015
by
Anonymous
I already had a memo for my recommenders outlining the steps in the process and the questions, but I thought I would buy this since this is one of my recommenders first MBA recommendations. This guide is extremely helpful especially if your recommender is busy. It gives him or her a step by step process on what recommendation to start with and how to move forward through the process. Definitely worth the money!

---
Informative Guide to Navigate the Nuances of Recommendations
Aug 05, 2015
by
Anonymous
I am a military candidate, so my supervisors who I chose to write recommendations for me have no experience writing business school LORs. This service broke down how to approach the process and what to emphasize in each letter depending on the school, enabling my supervisors to focus on key elements.

This product is highly recommended, and especially so if you'e a non-traditional candidate like me!

---
Very Helpful!
Oct 07, 2014
by
Anonymous
This instruction set gives you the guideline specifically tailored to the schools you indicate to be covered, and by covered I mean covered EXTENSIVELY and IN DETAIL.

It was really helpful especially when I was developing ideas with my recommenders about what I hope to include in the letters. As this instruction tells you what skillsets or qualities are highly valued by each school, it really made it easy for me and my recommender to quickly dig up stories that fit those criteria.

I strongly recommend this service to those who are seeking the most effective way to guide their recommenders. With this service, you are good to go in terms of recommendation letters.

---
You gots to get this!
Aug 29, 2014
by
Anonymous
As with all things essaysnark, I never realize how in over my head I am with this whole application process till I sit down with one of their guides. This recommendation set was particularly useful to me, as it served 2 purposes - it helped both me and my recommender dig up stories we wouldn't have considered, had the right question not been asked in the guide.
And it makes the recommenders life so much easier, with step by step directions that are pretty exhaustive.

---
Recommender Instruction Sets
Aug 09, 2014
by
Anonymous
Very helpful, since I was applying to more than 1 school without the "standardized" recommendation question set. I was trying to compile them myself and highlight the similar questions between schools, but lacked confidence mostly, on how to best present it to my recommenders (I had my stuff on an excel table). The PDF was really professional, and told them which recs to write first, and made a few suggestions on length and general comments on how to write, what not to do, etc. It gave me more confidence in my recommendations... My bosses are also not experienced in writing these, so I'm betting this was helpful for them

---